The Rowley Public Library has a variety of activities and resources available to all members of the community.  From computers to museum passes, to tutorials on learning a new language, there is something for everyone. We also have wireless Internet access available to all, so bring in your own laptop and connect.
Programs and Activities
The Rowley Library offers a wide variety of programs, clubs, and other ways to get involved.  Click here for a list of current offerings, or check out our calendar!  Our Summer Reading program for adults is always popular.  Try a yoga class, join our book group, or volunteer.  There's always something going on!
Search Our Online Databases, including Books and Music
Click here to search our selection of databases, including Gale, Safari, Encyclopaedia Britannica, and more.  Click here for audio books and e-books from Overdrive.  And try our downloadable music collection!
Genealogy
We offer several ways of performing genealogical research, including Ancestry.com (for in-library use only) and HeritageQuest. Check out all of our resources for unlocking your family tree.
Learning New Languages

Click here to try our new language learning software. Over 40 languages offered, plus 16 English language learning courses.
Computers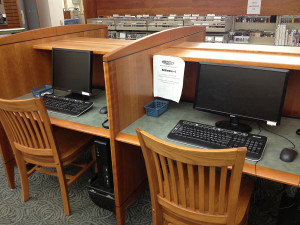 There are 14 public computer workstations, 9 in the reference area, 1 in the Young Adult section, and 4 in the Children's Room. All have Internet access and MS office productivity software and are networked to a both black and white and color laser printers. Parents are expected to monitor their children's Internet use.
The Library also offers wireless Internet access for those with wifi-equipped laptop computers, smartphones, tablets or other devices. The Library's catalog may be accessed from any desktop, and there is a dedicated Public Access Catalog (PAC) workstation in the reference area.
Library staff members are happy to help in the search for Library resources and materials. They are not able to provide in-depth technical support for computer programs, applications, or usage.
Need photocopies or a Fax machine?
Computer printing and photocopying is 10 cents per page. Color printing is 50 cents per page. A fax machine is available for public use for $1 per page. The number to receive a fax is 978-948-2266. Be sure to have the sender put your name and phone number on the cover page so that we may notify you.
Scanning documents
Documents may be scanned to an email address or a flash drive at no charge.