A message from the Friends of the Rowley Library president
Please look for our Annual Rowley Library Friends Membership Drive mailer in early April. We hope we can count on your support to renew your membership again. All membership proceeds go straight to support programming for all at our library.
Start looking through your book collection for your reading treasures you can donate to our library. Please mark your calendar for our two donation days March 30th and April 27th from 9:00am – 12:00pm. Our annual book sale is scheduled for May 4th and 5th with preview night (Friends members only) Friday, May 3rd.  We will also need lots of volunteers again to sort and sell books. Please ask friends and family to help. A signupgenius invitation will go out mid February.
The Friends will soon send out a survey via signupgenius to get an early indication of volunteers we can count on for the potential 14th Friends of the Rowley Library Chili Cookoff. 40 volunteers are needed to put together and run this big and fun community event to be held late Sept./early October of 2019. Please talk to your friends and family and help us garner support. Without a huge pool of volunteers we are not able to put on this event.
The Friends of the Rowley Library thank fellow Library Friend Michelle Ford for again running a very successful Holiday Basket Raffle this last December. You are just awesome Michelle. Thank you.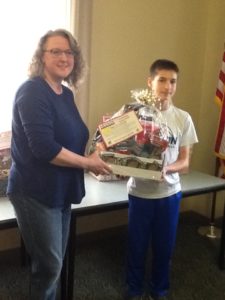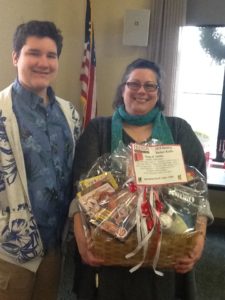 7th ANNUAL HOLIDAY BASKET RAFFLE

Recently, the Friends of the Rowley Public Library concluded our 7th Annual Basket Raffle. We are very grateful to all the local businesses and generous families that donated the many baskets. Year after year, the Basket Raffle could not happen without the support of these folks.
In 2018, the prizes were worth over $2,600 collectively. Young adults had many choices like Harry Potter, Dungeons and Dragons, Magic The Gathering, Manga and Anime, and Graphic Novels. Winnie the Pooh, Kids Craft Supplies, and Family Movie Night joined the annual Lego basket in the Children's Room. As always, treasures from the Institution for Savings, honey bees, and hand crocheted blankets were included. Rounding out the prizes were baskets highlighting bird watching, homemade dog biscuits, car supplies, mindfulness, Christmas supplies and decorations. Many Rowley restaurants were featured in the ever popular Gift Card Tree.
We thank everyone who purchased raffle tickets in the four weeks leading up to the raffle. The funds raised will help fund programs at the Rowley Public Library like children's story time and the Summer Reading Program. Congratulations to all the winners. We hope you enjoy your baskets.
We hope to see you all in November when the 2019 baskets arrive.
The Friends of the Rowley Public Library is a nonprofit, 501(c)3 organization whose sole mission is to support the Rowley Public Library by providing financial assistance to help defray the cost of library and staff development programs not covered under the annual operating budget, and by organizing volunteers to assist library staff.
Why support the Library?
Rowley is a unique community— and at the heart of it is The Rowley Public Library. The Library offers free and open access to information, education and learning. Thanks to the generous commitment of many dedicated citizens, the Library can continue to provide books, information and educational programs to the hundreds of patrons who come through our doors each week.
By becoming a member of The Friends of the Rowley Public Library, Inc., you can provide support to critical Library programs. There are two major ways to help:
Contributing financial support is critical to the Library's success.
Membership dues and fundraising activities help provide a variety of programs, activities and materials to library patrons. Programs that the Friends have sponsored in the past include the following:
Summer Reading Program
Monthly Book Club
Computer Classes for Senior
Free Museum and State Park Passes
Concerts, seminars and authors' lectures
Maintenance of gardens
New Building Campaign
Help support the Library by making a donation today. Click here for details.
Volunteering your time helps make it all happen.

Volunteers play a vital role at the Rowley Public Library. By donating your time, talent and skills, you can support and enhance the Library's programs, services and mission. We invite you to get involved with our broad range of activities, such as:
Bi-Annual "Some Like it Hot!" Rowley Chili Cookoff
Annual Book and Bake Sale (first weekend in May)
Annual Holiday Basket Raffle (mid-November through mid-December)
Membership
Gardening
Candidates Night
Do Dates! (Monthly E-Newsletter)
Program Awareness and Publicity
We invite all members of the community to join the Friends and get involved. Whether it is helping out once a year at a major event, making phone calls, or lending special skills — we need you.
Please consider volunteering any amount of time. For further information, please email friends@rowleylibrary.org or fill out the following application and deliver it to the Library. Thank you!

Save
Save
Save