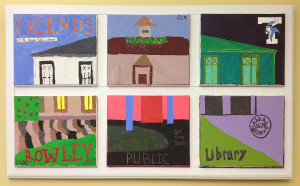 The Friends of the Rowley Public Library is a nonprofit, 501(c)3 organization whose sole mission is to support the Rowley Public Library by providing financial assistance to help defray the cost of library and staff development programs not covered under the annual operating budget, and by organizing volunteers to assist library staff.
The Friends Board of our Rowley Library is delighted to announce its new Officers and Team Members. Nominated were: 
Sieglinde Aigner-Crooks (President), Olivia MacDonald (VP and Membership coordinator), Alexandra (Alex) Hanscom (Secretary), Stephen (Steve) Markarian (Treasurer), Sara Stanley (helping Pam with monthly newsletter DoDates), Jim Dimarino (Records/Archivist), Laura DiPersia (Grant Writer). We are all excited to support
Approximately 140 individuals and families have renewed or started their 2017/2018 Friends membership. Donations ranged from $5 – $200. We thank everyone for their support and kindly ask anyone who has not renewed their membership to consider doing so. All money raised goes to fund Library programming.  Envelopes are available at the front desk. Thank you.
Why support the Library?
Rowley is a unique community— and at the heart of it is The Rowley Public Library. The Library offers free and open access to information, education and learning. Thanks to the generous commitment of many dedicated citizens, the Library can continue to provide books, information and educational programs to the hundreds of patrons who come through our doors each week.
By becoming a member of The Friends of the Rowley Public Library, Inc., you can provide support to critical Library programs. There are two major ways to help:
Contributing financial support is critical to the Library's success.
Membership dues and fundraising activities help provide a variety of programs, activities and materials to library patrons. Programs that the Friends have sponsored in the past include the following:
Summer Reading Program
Monthly Book Club
Computer Classes for Senior
Free Museum and State Park Passes
Lantern Parade
Concerts, seminars and authors' lectures
Maintenance of gardens (through Nature's Way Landscaping)
New Building Campaign
Help support the Library by making a donation today. Click here for details.
Volunteering your time helps make it all happen.

Volunteers play a vital role at the Rowley Public Library. By donating your time, talent and skills, you can support and enhance the Library's programs, services and mission. We invite you to get involved with our broad range of activities, such as:
Annual "Some Like it Hot!" Rowley Chili Cookoff (typically in early November)
Annual Book and Bake Sale (first weekend in May)
Membership
Gardening
Candidates Night
Do Dates! (Monthly E-Newsletter)
Program Awareness and Publicity
We invite all members of the community to join the Friends and get involved. Whether it is helping out once a year at a major event, making phone calls, or lending special skills — we need you.
Please consider volunteering any amount of time. For further information, please email friends@rowleylibrary.org or fill out the following application and deliver it to the Library. Thank you!

Save
Save
Save