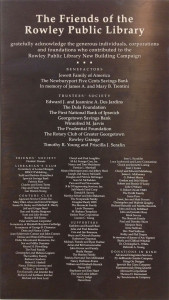 We rely greatly on membership dues and donations to help fund Friends-sponsored programs. Please consider joining the Friends and contributing to one of Rowley's most vital community service organizations—YOUR public library.
The Friends is a non-profit organization as defined under §501c(3) of the Internal Revenue Code. Contributions are tax-deductible to the extent provided by law.
Make checks payable to "The Friends of the Rowley Public Library, Inc." Donations may be left for the Friends at 141 Main Street, Rowley, or mailed to:
Friends of the Rowley Public Library
141 Main Street
P.O. Box 276
Rowley, MA 01969
We also accept donations via PayPal:
Planned Giving
Planned Giving is an integral part of ensuring The Rowley Public Library's excellence for generations to come. When arranging your financial or estate plan, we hope you will consider the Library.
There are many ways in which you can incorporate the Library into your planning. You may learn more about the different types of Planned Gifts and their associated benefits by clicking on their links below:
Bequests
Provide for the Library's future and save on estate taxes. More info >>
Pension Protection Act of 2006
New legislation now allows you to contribute directly from an IRA of you are 70 1/2 or older. More info >>
Other Gifts
Name the Library as a beneficiary of your retirement plan or insurance policy. More info >>
For designation purposes, please note that the full legal name, address, and tax identification number for the Library are:
The Friends of the Rowley Public Library, Inc.
141 Main Street
Rowley, MA 01969
TIN: 043-434-995
To learn more about gifting of retirement plans and life insurance policies, please contact an Executive Officer of the Friends.