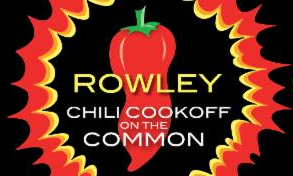 On behalf of the Friends of the Rowley Public Library, we wish to extend a sincere thank-you to our generous sponsors, chefs and the many people who contributed their time, energy and talent to make the 13th Annual Chili Cookoff a huge success. We all had a blast. The cook-off, which was held on Saturday, Sept. 30, 2017 at St. Mary's Parish Hall in Rowley, raised about $5,000, after expenses, all to benefit programs at our Rowley Public Library. We owe a huge thanks to St. Mary's for allowing us to hold the event in their hall despite very short notice. Our apologies again to the parishioners of St. Mary's who were inconvenienced by parking issue and noise. Without you, we would have had to cancel our event since the weather was simply too awful for an outdoor event.
Volunteers contributed in every aspect, including planning and organizing, publicity, ticket sales, decorating, baking, vegetable platter donations, judging, cashiering, score keeping, and of course, cooking and serving chili. In a move toward "greening up" the cook-off, most of the trash generated was sorted and recycled after the event. Special thanks go to the youth bands Blue Crush, Half Built Death Star and Bliss of BeImagine Music Studio and Orville Giddings Acoustic Trio who kept the crowd entertained; to Ipswich Ale our beer and soda sponsor; to perennial sponsors Institution for Savings, First Ipswich Bank, Rowley Family Dental, Rowley Realty, Choice Graphics, Flagship Harbor Advisors and the Village Pancake House as well as new sponsors Iron Tree Service and Mountain One Bank. We thank the American BBQ and Spuds for donating delicious corn bread and chili for the hungry crowd and Country Gardens who supplied us with beautiful fall plant decorations. Thanks also to Doug at Old Town Bread Co., First Ipswich Bank and our librarians for pre-selling tickets. Special awards were given to Karen Herrick, past treasurer and Tim Young, past president of the Friends for their many years of service. Karen and Tim received gorgeous mugs with a beautiful library drawing designed by Priscilla Serafin. Those mugs are also for sale at the library and make a wonderful gift. Come get your very own in time for a nice hot beverage.
Many thanks also to the committee members who organized the dozens of volunteers to make the event run smoothly: Sara Bourque, Stephen Markarian, Keith Harris, Laura DiPersia, Alex Hanscom, Olivia McDonald, Pamela Jacobson, Maggie Lemelin and Janet Peabody. Thank you esteemed judges: Police Chief Scott Dumas, Triton Superintendent of Schools Brian Forget, PGS Principal Christine Kneeland, Town Common Editor Marc Maravalli and Selectman Bob Snow. And here are the winners. In the category of Red Chili, congratulations go to: 1st Prize Kevin Moriarty, 2nd Prize Mary Rooney, 3rd Prize Bill Wright. For the Vegetarian Category: 1st Prize James Heise, 2nd Prize Coco Crooks and the winner for People's Choice Mary Rooney. Enjoy your prizes and fame!
See you in two years!
Sieglinde Aigner-Crooks and Sara Bourque
Chili Cookoff co-chairs
Friends of the Rowley Public Library
For a flash of the past see http://tightrope.townofrowley.org/RCM/show-details.php?ShowID=2259 a video from the 2015 event.
Thank you to current sponsors and supporters: