When:
November 14, 2017 @ 8:00 pm – 8:00 pm
2017-11-14T20:00:00-05:00
2017-11-14T20:00:00-05:00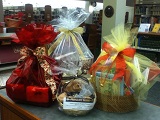 6th Annual Holiday Basket Raffle
The baskets are back by popular demand! The Friends of the Rowley Public Library Annual Basket Raffle grows every year. Last year's raffle reached new highs for number of baskets, value of the prizes, and importantly, money raised to support the Rowley Public Library. As we begin to plan for this year, we need your help. Please consider donating a themed basket with a regular retail value of at least $50. You can donate with your family, a club or business. If you are unable to donate a complete basket, please consider donating a gift card for our gift card tree.
All baskets will be on display at the Rowley Public Library from November 18 to December 16. Baskets are due by November 14.  Email baskets@rowleylibrary.org or call 781-640-0006 for a basket entry form or more information.  All money raised will go to fund programs at the Rowley Library like the Summer Reading Program, Rowley Reads, kids' yoga, author readings, the monthly book club and more!
NOTE:  Because the baskets will be on display for 4 weeks, we cannot accept donations of alcohol, tobacco or perishable items.
Save