When:
December 2, 2017 @ 10:30 am – 1:30 pm
2017-12-02T10:30:00-05:00
2017-12-02T13:30:00-05:00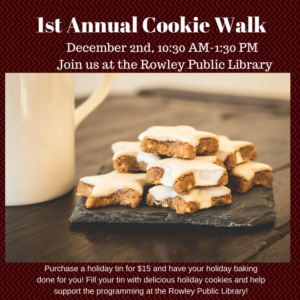 What is a Cookie Walk?
While many have experienced a Christmas Cookie Walk, others may not be sure what it is and how it works. This is a fundraiser where we sell homemade cookies by the tin. We ask that our members and friends bake and donate batches of one of their favorite Christmas cookie (about 6 dozen) to donate for the walk. The day of the cookie walk, we line tables up with large platters of the donated cookies. Buyers choose a decorative tin and walk around the tables to choose the cookies they would like to purchase. This is a great way to get a huge variety of holiday cookies without baking so many different kinds! All proceeds from the sale are donated to fund programming at the Rowley Public Library!
Bakers Instructions:
Please bake 6 dozen (or more!) of your favorite variety of cookie. Please only bake one variety, and email Olivia to let her know which kind you'll bake. All varieties and types of cookies are needed: sugar cookies, decorated cookies, etc – or bake your family favorite. Many cookies are needed to make the walk successful.
Please have cookies NOT individually wrapped, but protected (gallon Ziploc bags/tins/plastic containers) for the event. On the day of the event, we will have the cookies displayed on platters.
Drop Off: Please come drop off your donated goodies to the Rowley Public Library between Monday Nov 27th  and Thursday Nov 30th from 10am-8pm so that we can set them up for the cookie walk on Saturday, December 2nd.
Bakers/Donors get half off on the day of the cookie walk! Stop by and pick up a tin, fill it with a variety of cookies, so your holiday baking is done!
This event is only successful because of all our bakers (you!) who spend the time to bake the cookies!
Email Olivia MacDonald with any questions, olivialeonemacdonald@gmail.com