The Rowley Public Library welcomes exhibits and displays of interest, information, and enlightenment to the community. Examples include art, handiwork, historical material, nature studies, hobbies and collections. Contact us or call 978-948-2850 to schedule an exhibit in the gallery space or lobby display case.
Currently showing in the Gallery and Display Case:
Works of artist Buddy Pritchett on display
Artist Buddy Pritchett, a native Texan, now lives in Newburyport. Early in his career, Pritchett did contract graphic design and illustration work for NASA. His love of space exploration and the galaxies beyond, spark his imagination, and it shines in many of his abstract paintings and digital art works now on display at the Rowley Public Library.  His works have been shown in Houston, New Orleans and Newburyport, where he has received multiple awards for work in Digital Art, at the Newburyport Art Association's Annual Regional Juried Show.  You can find another exhibit of Mr. Pritchett's paintings at the Newburyport Art Association, August 15 – 20.  His work will be on display through August at the Rowley Library.
Currently in our Display Case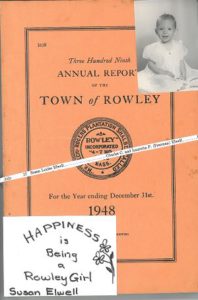 This month in our display case, Rowley resident Susan Elwell will be bringing us memories of growing up in Rowley through pictures and memorabilia. Susan remembers being a fifth grader and attending the then brand new Pine Grove School. Find out what's changed and what's stayed the same!  Visit the display at the Rowley Library through the month of August.
Display Case schedule has openings
We are looking for collectors and enthusiasts who want to share what they love with the community.   Do you collect PEZ dispensers, trains, comic books?  We have a display case for that!  Are you part of a club, like a knitting group or local bird watchers?  Help us educate the community by doing an informational display in our display case.  The display case is available for a month at a time, and we still have slots open for 2017.  For more information, call Amy Roderick at 978-948-2850 .
Looking for Local Artists
We have showcased some great art in the past, from seascapes and portraits to beadwork and needlepoint.  We currently have a few openings left in our 2017 calendar.  If you have a talent for painting, photography, or anything else that can be displayed on the wall, or you collect something that fits the bill, share it with your community. We would love to see it!  For more information, call Amy Roderick at 978-948-2850. 

Save
Save
Save
Save
Save
Save
Save
Save
Save
Save
Save
Save
Save
Save