The Rowley Public Library welcomes exhibits and displays of interest, information, and enlightenment to the community. Examples include art, handiwork, historical material, nature studies, hobbies and collections. Contact us or call 978-948-2850 to schedule an exhibit in the gallery space or lobby display case.
Currently Showing in the Gallery and Display Case:
The art of Teri Canelle on exhibit
The Rowley Public Library is currently hosting the landscapes of Teri Canelle.  She is most passionate about painting in the tonalist style, where paint is applied in layers of dark tones, muted hues and touches of light to create atmospheric, luminous effects. A native of western Pennsylvania, Teri Canelle has lived most of her adult life in coastal New England and currently lives in Byfield, Massachusetts.  She is affiliated with Cleo Gallery in Kemare, Ireland, Eventide Gallery in Essex, and Somerset Interiors in Hamilton, and is a member of the Rockport Art Association.  The display will be up through January.
In Our Display Case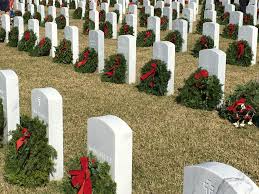 Wreaths Across America

Each December on National Wreaths Across America Day, our mission to Remember, Honor and Teach is carried out by coordinating wreath-laying ceremonies at Arlington National Cemetery, as well as at more than 1,400 additional locations in all 50 U.S. states, at sea and abroad.
Join us by sponsoring a veterans' wreath at a cemetery near you, volunteering or donating to a local fundraising group.
This display is sponsored by our local Rowley Grange.
Our Display Case schedule has openings
We are looking for collectors and enthusiasts who want to share what they love with the community.   Do you collect PEZ dispensers, trains, comic books?  We have a display case for that!  Are you part of a club, like a knitting group or local bird watchers?  Help us educate the community by doing an informational display in our display case.  For more information, call Amy Roderick at 978-948-2850 .
Looking for Local Artists
We have showcased some great art in the past, from seascapes and portraits to beadwork and needlepoint.  If you have a talent for painting, photography, or anything else that can be displayed on the wall, or you collect something that fits the bill, share it with your community. We would love to see it!  For more information, call Amy Roderick at 978-948-2850.